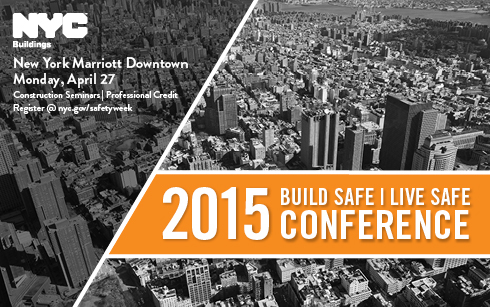 Reserve Your Seats!
Construction Safety Week 2015 launches on Monday, April 27 with our annual Build Safe │ Live Safe Conference!
Tickets are still available for this daylong series of seminars. Department experts will discuss industry trends and highlight safe construction operations. Professional credit will be available.
---
Façade Safety
Oversight Requirements
Façade projects requiring site safety plans – buildings 15 stories and higher – may now use a site safety manager, rigger, designated rigging foreman or qualified person to oversee site safety. See NYC Building Code §§3310, 3314.4 and 3316.9, and 1 RCNY 3310-01.
Façade Inspection Safety Program Cycle 8
The filing period for Façade Inspection Safety Program (FISP) Cycle 8 began February 21, 2015. Technical Reports filed under Cycle 8 must meet new submission requirements.
Service Updates
Sidewalk Sheds
Notice of Removal
Sidewalk Shed Placement
Suspended Scaffolds
Installation Inspections
Installations and Removals
Supervision of Use
Supervision Installation + Removal
Pre-Shift Inspections
Demolitions
Notice Requirements
Special Inspections
Mechanical Equipment Permits
Required Documents
Exemptions to Required Documents
Rigging
Notifications
Site Safety
Accidents + Incidents
Suspended Scaffolds
Sustainability
Energy Code Overview
Effective Date + Filings
---
Buildings Bulletins
2015-001: Sandwich panels for exterior wall construction
---
Did You Know?
The Department of Buildings is serving on Mayor Bill de Blasio's Tenant Harassment Prevention Task Force, which will protect New Yorkers from unlawful construction tactics that displace residents from rent-regulated apartments.