FOR IMMEDIATE RELEASE
Press Release #10-031

Seth Solomonow/Scott Gastel (212) 839-4850
NYC DOT Announces Return of Summer Streets, Bringing Innovative Pools, Creative Entertainment to Car-free Streets on First Three Saturdays in August
Summer Streets 2010 to feature pop-up pools, Fringe Festival NYC, dance and fitness classes
New York City Department of Transportation Commissioner (NYC DOT) Janette Sadik-Khan today announced the third annual Summer Streets is returning next month, bringing nearly seven miles of car-free streets to Manhattan from the Brooklyn Bridge to Central Park for three Saturdays on Aug. 7th, 14th and 21st from 7 am to 1 pm, as well as to 18 neighborhoods in all five boroughs throughout the summer. A new attraction this year will be "Dumpster pools" — fully code-compliant mobile pools that creatively reinterpret the ordinary streetscape features as a place to splash and cool off. The New York International Fringe Festival will also bring their theater and performances artists to the route, and there will be dozens of other opportunities to bike, walk, rollerblade or to take any of the number of free exercise, dance or other activity classes ranging from yoga to Cardio Go-Go along Lafayette Street, 4th and Park Avenues and 72nd Street.
"Summer Streets is becoming an eagerly anticipated tradition and we're proud to bring it back for a third summer for New Yorkers to create their own urban adventures," said Commissioner Sadik-Khan. "In addition to space for skating, cycling or strolling, the route's new attractions this year will bring our streets to life, from swimming to street theater."
This year's Summer Streets events are made possible in part through the generous support of sponsors that include Whole Foods Market, Reebok, Crunch, Stonyfield Farm, Odwalla, Cabot and Bicycle Habitat. As part of this year's signature event in Manhattan, development firm Macro-Sea will set up three swimming pools created from clean, stylized Dumpster-style containers. Located near the Grand Central Viaduct, these pools will feature decking and a pool lounge area, giving New Yorkers a chance to cool off in a pool or simply enjoy the poolside. The New York International Fringe Festival NYC, the largest multi-arts festival in North America, will offer samples of some of the more than 200 plays that will be performed during the festival from Aug. 13th – 29th. A "fun run" hosted by New York Road Runners will kick off Summer Streets on Saturday, Aug. 7 (register at www.nyrr.org), and there will be Learn to Ride classes by Bike New York and a Local Bike Makers Showcase.
Key cross-town streets will remain open to vehicles crossing so participants can enjoyed the traffic-free environment and fun, free events. No Parking regulations will be in effect from 10 p.m. beginning the Friday evening before each event until 2 pm the day of the event. Street closures will begin at 6 am, with streets reopening at 1:30 pm the day of each event. More information can be found www.nyc.gov/summerstreets.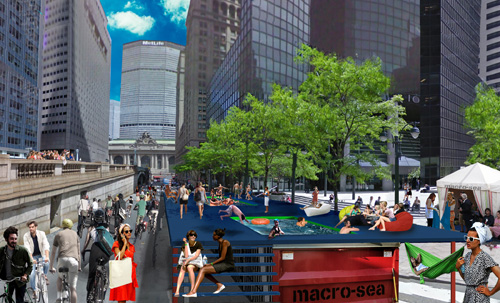 As part of the Summer Streets program, DOT is once again partnering with community groups in every borough to present Weekend Walks. These temporary pedestrian streets highlight local businesses and cultural institutions while promoting healthy and safe recreation. Each event creates high-quality space in commercial districts. Hosted by local community groups and merchants, each Weekend Walk will features activities ranging from music performances, arts and crafts, classes and youth programming. Altogether, there are 18 Weekend Walks locations planned this year, each providing unique, car-free street experiences ranging from one to seven blocks long in each borough. To learn more visit www.nyc.gov/weekendwalks.
Weekend Walks Events in all Five Boroughs
Bronx
Bronx Summer Walks – Burnside Avenue between Jerome and Morris Avenues, Saturday July 24th, 31st and August 7th, 11 a.m. – 5 p.m., Sponsored by Davidson Community Center.
Brooklyn
Pitkin Summer Plazas – Pitkin Avenue between Strauss and Thomas Boyland Streets, Saturday July 10th, 17th and 24th, 10 a.m.- 6 p.m., Sponsored by Pitkin Avenue BID.
The Sunday Scene – Knickerbocker Avenue between Suydam and Starr Streets, Saturday July 11th, 18th , 25th and August 1st, 11 a.m.- 5 p.m., Sponsored by Ridgewood Bushwick Senior Citizens Council.
Summer Plazas on 5th Avenue – 5th Avenue between 51st Street and 56th Street, Sunday July 18th, 25th and August 1st, 1 p.m. – 6 p.m., Sponsored by Sunset Park BID.
Move About Myrtle – Myrtle Avenue between Clermont Avenue and Hall Street, Sunday September 5th, 12th, 19th and 26th, 12 p.m.- 6 p.m., Sponsored by Myrtle Avenue Partnership.
Montague Summer Space – Montague Street between Hicks and Clinton Streets, Sunday September 12th, 19th, and 26th, 10 a.m.- 5 p.m., Sponsored by Montague BID.
Manhattan
Stanton Street Summer Sundays – Stanton Street between Allen and Ludlow Streets, Sunday July 11th, 18th and 25th, 12 p.m.- 5:00 p.m., Sponsored by Lower East Side BID.
Queens
Sunnyside Weekend Walks – 46th Street between Queens Boulevard and Greenpoint Avenue, Saturday August 7th, 14th, 21st and 28th, 12 p.m.- 7 a.m., Sponsored by Sunnyside Shines BID.
Astoria Water Walk – Shore Boulevard between Astoria Park South and Ditmars Boulevard, Sunday August 1st, 8th, and 15th, 1 p.m.- 7 p.m., Sponsored by Astoria Park Alliance.
Staten Island
Van Duzer Days – Van Duzer Street between Beach and Wright Streets, Saturday July 3rd, 10th, 17th and 24th, 12 p.m.- 8 p.m., Sponsored by Staten Island Collaboration.
Several Weekend Walks events have already concluded, including:
Bronx Summer Walks - 167th Street from Gerard Avenue to Cromwell Avenue, sponsored by the Women's Housing and Economic Development Corporation.
Williamsburg Walks-Bedford Avenue between North 4th and North 9th Streets, sponsored by Neighbors Allied for Good Growth.
FAB Fest- Fulton Street between Lafayette Avenue and S. Oxford, sponsored by FAB Alliance.
Vanderbilt Avenue Summer Streets - Vanderbilt Avenue between Dean Street and Park Place, sponsored by Prospect Heights Neighborhood Development Council and the Vanderbilt Avenue Merchants District.
Manhattan Valley Family Days - Amsterdam Avenue between 106th and 110th Streets, sponsored by the Columbus Amsterdam BID.
Uptown Broadway's Weekend Walks - Edward Morgan Place between 157th and 156th Streets, sponsored by the Community League of the Heights.
Port Richmond Weekend Walks - Port Richmond Avenue between Castleton and Bennett Avenues, sponsored by the Northfield Community LDC.