FOR IMMEDIATE RELEASE
Press Release #11-56

Seth Solomonow/Nicole Garcia (212) 839-4850
NYC DOT Announces Summer Streets' Return, Bringing Sand Castles, Climbing Wall and Family-fun Activities to Car-free Streets for Three Saturdays in August
Summer Streets 2011 to feature bike and skate rentals, dance and fitness classes, and more
New York City Department of Transportation Commissioner (NYC DOT) Janette Sadik-Khan; NBA legend and former New York Knicks player John Starks; and former New York Mets pitcher and MLB star John Franco today announced the fourth annual Summer Streets is returning in August, bringing nearly seven miles of car-free streets to Manhattan from the Brooklyn Bridge to Central Park for three Saturdays on Aug. 6, 13 and 20 from 7 a.m. to 1 p.m., as well as introducing Weekend Walks to 18 neighborhoods in all five boroughs throughout the summer. DOT continues to bring dynamic programming to each year's lineup, and this year's newest attractions are sand castles and sculptures by Matt Long of Sand Masters television fame as well as sand boxes for everyone to enjoy, a climbing wall provided by REI that is 25-feet tall, sports activities ranging from basketball to baseball to hockey, and storytelling activities hosted by StoryCorps. Once again, there will be dozens of opportunities to take part in free exercise and dance classes ranging from yoga to Cardio Go-Go at Lafayette Street, 4th and Park Avenues and 72nd Street, as well as bike, walk and rollerblade along the route. The Commissioner joined the star athletes at 17th Street and Park Avenue to announce this year's schedule and programming.
"Summer Streets and Weekend Walks are back, with even more opportunities for New Yorkers to stroll, cycle, skate and, in some places, dance their way through the five boroughs," said Commissioner Sadik-Khan. "By opening up streets to lively programming, we're building on a summertime tradition of reconnecting people to these spaces as vibrant public places."
This year's Summer Streets events are made possible in part through the generous support of sponsors that include outdoor gear retailer REI , Chipotle, Women's Health Magazine, Whole Foods Market, Crunch, Odwalla, GoGo Squeez, Vespa, Sprint and Bicycle Habitat, among others. Media sponsors include Travelocity, New York Post, New York Magazine, SBS (La Mega and Amor), Emmis Radio Group (Hot, RXP, Kiss), SNY, CBS, and El Diario.
As part of this year's signature event in Manhattan, Environmental Protection will provide water fountains along the route and free bicycle and rollerblade rentals will be available at select locations. Healthy eating also is a focus this year, with Chipotle hosting guacamole making and Union Square Greenmarket holding cooking demonstrations. Additionally, QVC and Whole Foods Market Cooking with Food 52 will be onsite hosting the first-ever Summer Streets Cook-off on August 6.
Bike New York also will be onsite teaching Learn to Ride bicycle classes, while Transportation Alternatives (T.A.) will lead bicycle "feeder rides" to Summer Streets from the Bronx, Brooklyn and Queens. Each Saturday T.A. will provide free Bike Valet parking, and the New York International Fringe Festival NYC, the largest multi-arts festival in North America, will offer free performances from its Fringe Jr. line-up.
Key cross-town streets will remain open to vehicles. No Parking regulations will be in effect from 10 p.m. beginning the Friday evening before each event until 2 p.m. the day of the event. Street closures will begin at 6 a.m., with streets reopening at 1:30 pm the day of each event. More information can be found at nyc.gov/summerstreets.
DOT is once again partnering with community groups in every borough to present Weekend Walks. These temporary pedestrian streets expand the doorsteps to local businesses and cultural institutions while promoting healthy, safe, fun recreation. Each event creates high-quality space in commercial districts. Hosted by local community groups and merchants, each Weekend Walk will feature activities ranging from music performances to arts and crafts, classes and youth programming. Altogether, there are 18 Weekend Walks locations planned this year, each providing unique, car-free street experiences ranging from one to eight blocks long in each borough. To date, Weekend Walks have already taken place in the Bronx, Brooklyn and Manhattan with support from WHEDco (Women's Housing and Economic Development) in the Bronx; the Neighbors Allied for Good Growth in Brooklyn; and the Columbus Amsterdam BID and Community League of the Heights (CLOTH) and the West Harlem Community Preservation Organization in Manhattan. More information is available at nyc.gov/dot.
Remaining Weekend Walks Events
Bronx
Burnside Summer Walk – West Burnside Avenue between Jerome and Davidson avenues, Saturday July 23, 30 and August 6, 11 a.m. – 5 p.m., Sponsored by Davidson Community Center
Summer Street on 204th – East 204th Street between Bainbridge and Perry avenues, Sunday July 24, 31 and August 7, 11 a.m. – 5 p.m., Sponsored by Bronx CB 7
Brooklyn
Pitkin Avenue Summer Plaza – Pitkin Avenue between Strauss and Amboy streets; Sunday, July 10, 17 and 24, noon - 5 p.m., Sponsored by Pitkin Avenue BID
The Sunday Scene on Knickerbocker – Knickerbocker Avenue between Suydam and Starr streets, Sunday, July 17, 24 and 31; 11 a.m.- 5 p.m., Sponsored by Ridgewood Bushwick Senior Citizens Council
TAMA (Tompkins Avenue Merchants Associatio) Summer Fest – Tompkins Avenue between Hancock Street and Putnam Avenue, Saturday, July 30 and August 6, 2:30 p.m.- 5:30 p.m., Sponsored by Bridge Street Development Corporation
Montague Summer Space – Montague Street between Clinton and Hicks Streets; Sunday, Sept. 18, 10 a.m.- 5 p.m., Sponsored by Montague Street BID
Halloween Spooky-tacular! – St. Marks Avenue from Flatbush Avenue to 6th Avenue and 6th Avenue from Flatbush Avenue. to St. Marks Avenue, Saturday, Oct. 29, noon – 5 p.m., Sponsored by North Flatbush BID
Manhattan
Meet the Street – East 4th Street between Bowery and Second Avenue, Saturday and Sunday, August 20, 21, 27 and 28, 1 p.m. – 8 p.m., sponsored by FAB (Fourth Arts Block)
Hudson Square Children's Art Studio – Charlton Street between Hudson and Greenwich streets, Saturday, July 9, 16 and 23, 12 p.m. – 4 p.m., Sponsored by Hudson Square Connection
Queens
Sunnyside Summer Streets – 46th Street between Greenpoint Avenue and Queens Boulevard, Saturday, July 30, Aug. 6, 13, 20 and 27, 1 p.m.- 7 p.m., Sponsored by Sunnyside Shines BID
Astoria Water Walk – Shore Boulevard between Astoria Park South and Ditmars Boulevard, Sundays, August 7, 14, 21, 1-6:30 p.m., Sponsored by Astoria Park Alliance
Summer Afternoon on Main Street – Main Street between 71st Road and 72nd Avenue, Sunday, July 3, 1:00 p.m.–4:00 p.m., sponsored by the Kew Gardens Hills Civic Association
Staten Island
Van Duzer Days – Van Duzer Street between Wright and Beach streets, Saturdays, July 23 and 30 and Aug. 6 and 13, noon–7:00 p.m., Sponsored by Staten Island Collaboration
Map of Summer Streets Route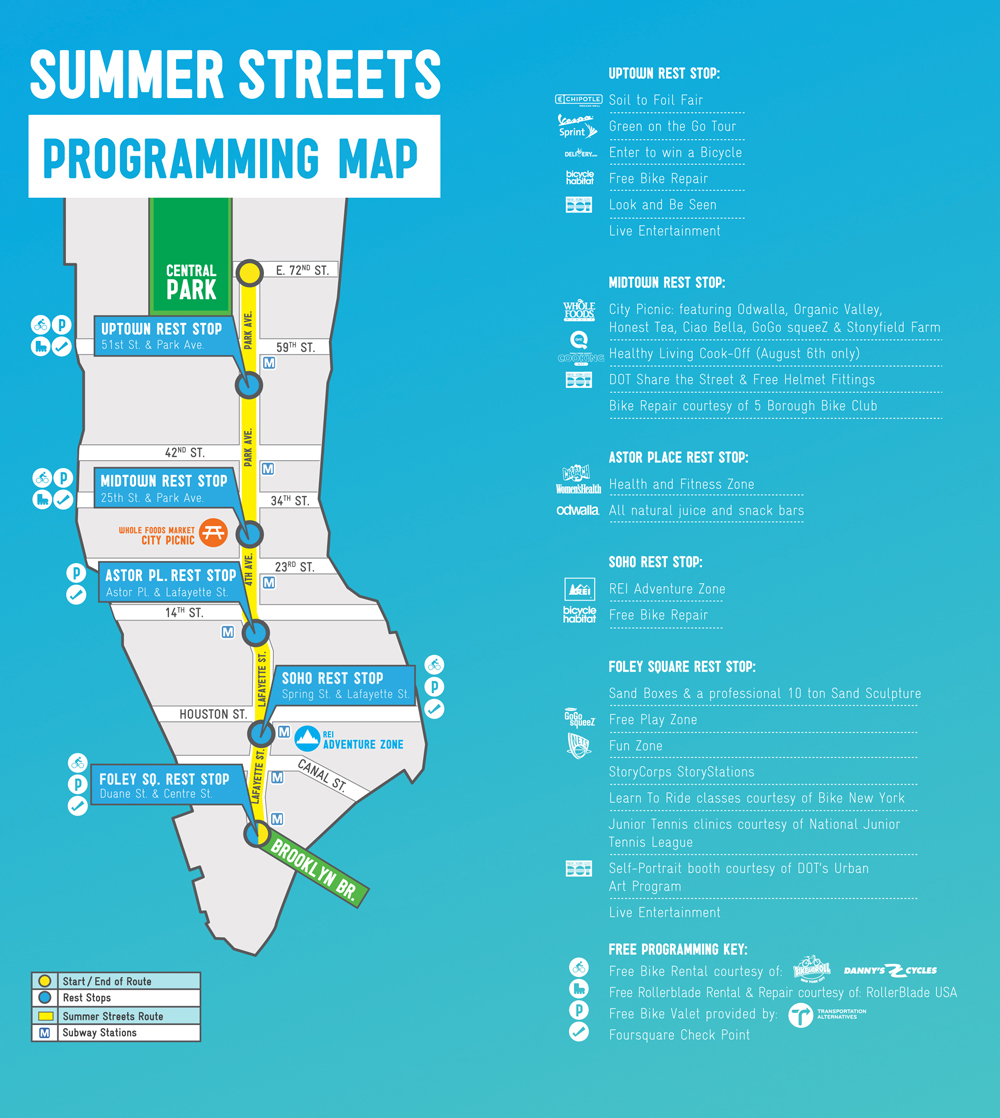 —30—